EzPress + is a bolt-on unit designed for automated screen printing on a manual press. The goal is simple: create an attachment for manual presses that is affordable ($1,000), useful, and based on open-source principles like the 3D printing community. But actually executing that idea? It's difficult.
The leap from a manual to automatic screen printing press is huge. The capital, time, and stability required to go from manual to automatic printing has stopped the growth of many print shops – it's a make-or-break moment. Hundreds of used screen printing presses that shuttered print shops leave behind are evidence of that.
21 year old Cameron Maciel from Riverside, CA has identified and taken on this idea: the semi-automatic screen printing press.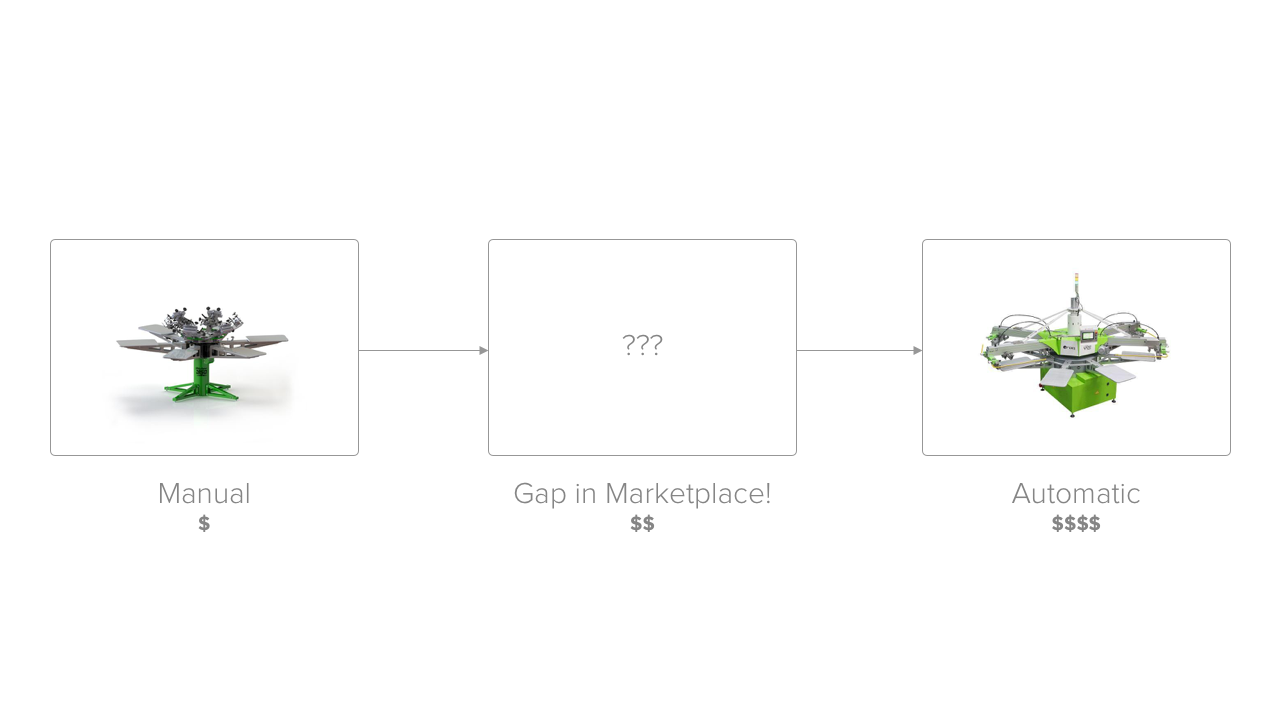 Cameron grew up on his family's farm, working in his parents' businesses. Because of the challenging environment and limited resources, Cameron made his own solutions to vexing problems. What if there were a natural "next step" for businesses that want the consistency and speed of automatic printing without the high cost of entry?
His experiences with farming equipment made him a scrappy, resourceful creator:
"A lot of the farming equipment we used wasn't meant for the use we put them through. We buy the main component, then we make it better. [...] If it works, it works. If it doesn't, try again."
How EzPress started: Do we need semi-automatic screen printing?
Cameron was an entrepreneur from an early age. He started screen printing for clubs, teams, and organizations in middle school. He would work during the summer to save money for more screen printing supplies.
As his capabilities grew, his ambitions exceeded his ability to actually print the jobs he wanted to print:
"For me, printing a 4-color t-shirt over 1,000 shirts – that's a lot of strokes. I wanted to take the manual process out. Instead of you manually flooding and printing, you click a button and it does that for you. [...] It maintains consistency throughout shirt 1 to shirt 1,000. You're not getting fatigued. The consistency is there throughout the whole job."
But most people don't start firing up the CNC machine and welding together a new contraption when they face this problem!
That's what made Cameron different – his background jerry-rigging solutions to farming problems combined with a perfect opportunity from his high school engineering program: he spent his senior year proofing and testing the first iteration of Ez Press thanks to Project Lead The Way.
The "semi-automatic" screen printing niche exists. The gap between manual printing and automatic is huge. From price of entry, to the power and space requirements, to the quantity of prints that can be done, purchasing an automatic press is a big step. Bridging that gap to unlock small print shops' capabilities could be a groundswell moment.
Does EzPress really work?
Because he's a one-man-operation, works full time, and is 21 years old – EzPress hasn't been extensively tested. Manufacturers like ROQ and M&R have hundreds of employees in state-of-the-art facilities. Cameron has his apartment. Regardless, the basic concept has been tested and validated.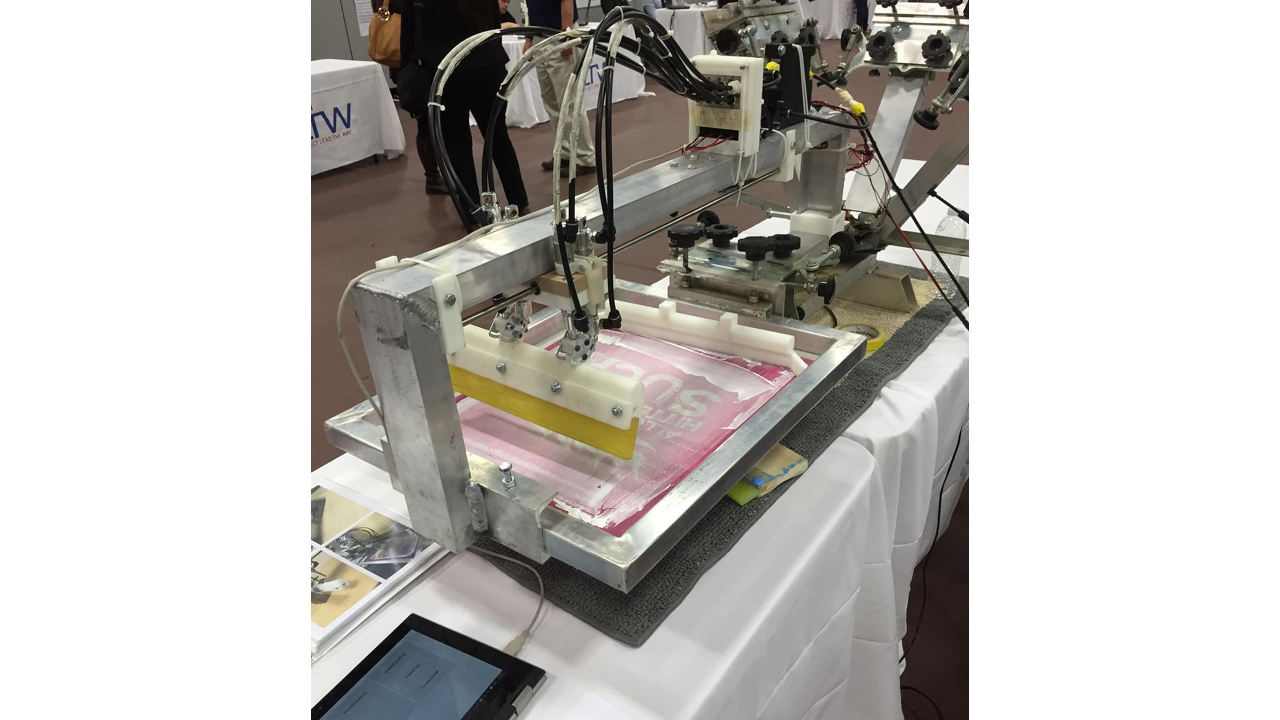 EzPress is looking for testers and partners to evaluate, develop, and offer constructive feedback on future models.
Lessons learned: Patience, persistence, simplicity
EzPress is a labor of love. The skills required to take the project to this level – engineering, machining, coding – could have made Cameron wealthy on their own. But the satisfaction from repeated breakthroughs keeps Cameron going. He recounts the first time the EzPress setup was successfully tested:
"Once we got the circuit board going, plugged the pneumatics in, and got the software to talk to the board when the touchscreen was activated, it was an awesome experience. I still remember it."
What we found most remarkable about Cameron's story is how he taught himself so much. He started by finding a problem he wanted to solve – manual printing is agonizing and labor-intensive for profitable jobs – and plugged away until he figured it out. He read books, took Ryonet's classes, watched YouTube, and scoured the internet for open-source communities. The design improves as he digests new information and learns more about manufacturing and development.
One thing is obvious: EzPress is a long-term project powered by someone with the right principles and grit to tackle it. "Basically, it's a slow process. In 2016 I built the first one. In 2019, I'm still working on it."
What's left? When does EzPress hit the market?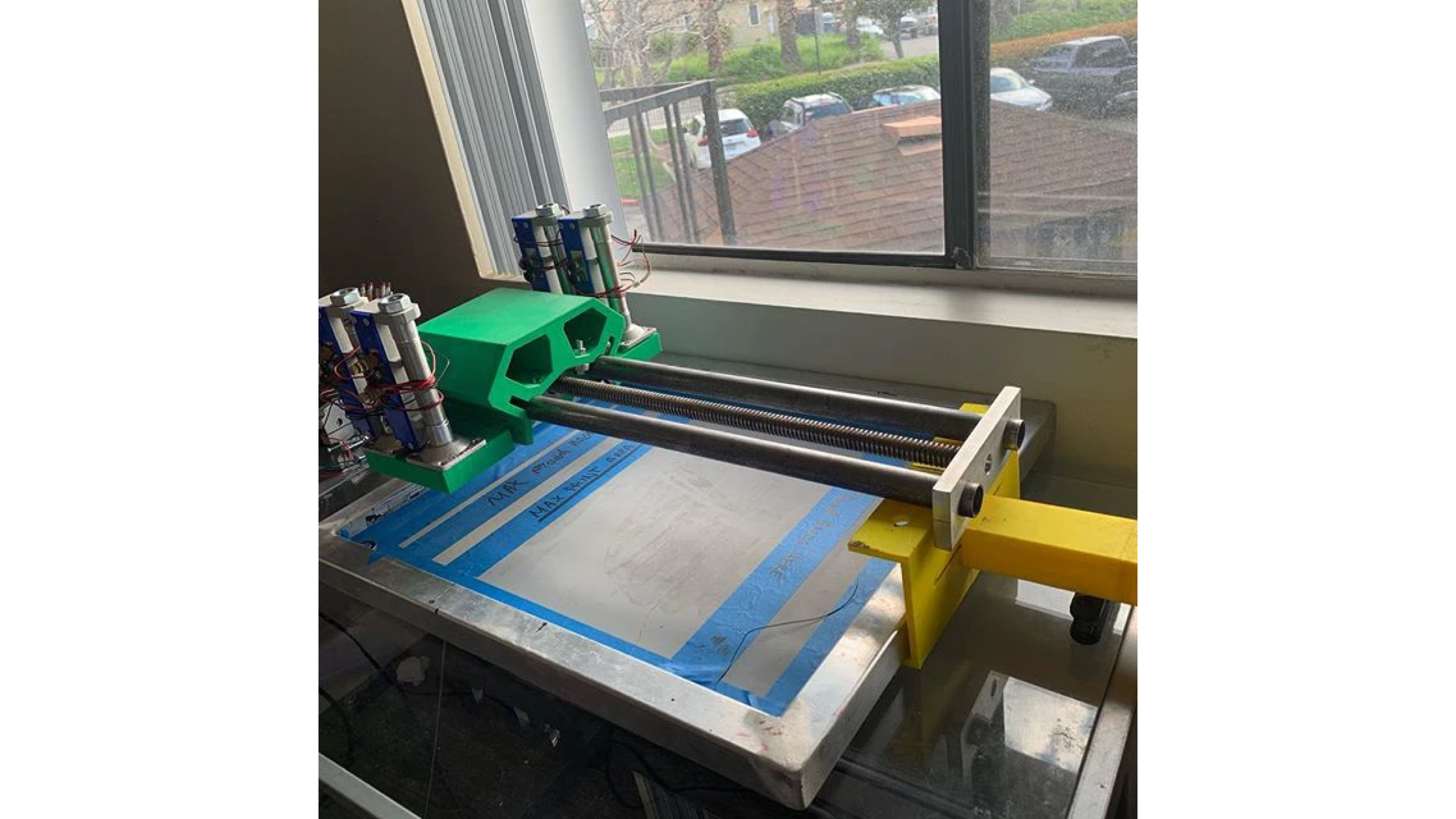 EzPress version 2 has an ambitious end-of-year release date. That doesn't mean you'll be able to log onto your supplier's website and order it, though.
Cameron still needs to improve and flesh-out the design for the squeegee holder and floodbar. This wound up being a big challenge – you can't simply bolt a traditional manual squeegee to something and press "Go" – but he's confident he'll make headway toward a reasonable solution in the near future.
Are you a maker? Cameron wants your help
View this post on Instagram
Cameron was very clear with us: his goal isn't to conquer the screen printing industry. He comes from the world of 3D printing, known for its focus on open-source solutions and crowdsourced engineering. He's looking for a network of screen printing shops that are interested in learning the basics required to start building, iterating, and improving hybrid semi-automatic screen printing machines.
"I want to know if other screen printers are interested in open-source platforms. Are they willing to learn the coding? [I want to find people that want] to design modules to plug in to the device to make it even better. I want a platform where people bounce ideas off each other."
What would those skills look like?
Basic coding. A simple coding language to control and manipulate the machines.
Basic engineering. Better measurement and definition of the challenges, particularly around squeegee and floodbar design.
A network of like-minded shops. The wisdom of the crowd will make something better, faster.
Want to get in touch with Cameron, share your skills, and take part in an exciting project? Get in touch with him!
---
People like Cameron Maciel push everyone forward. We're excited to see the EzPress story develop.
Interested in the stores other print shop owners have? Consider joining us July 12-13 in downtown Chicago at our annual PrintHustlers Conference. We've even got Profit First author Mike Michalowicz as our keynote speaker.
We've also written about inspiring figures in the industry like:
Would you use EzPress? Let us know!